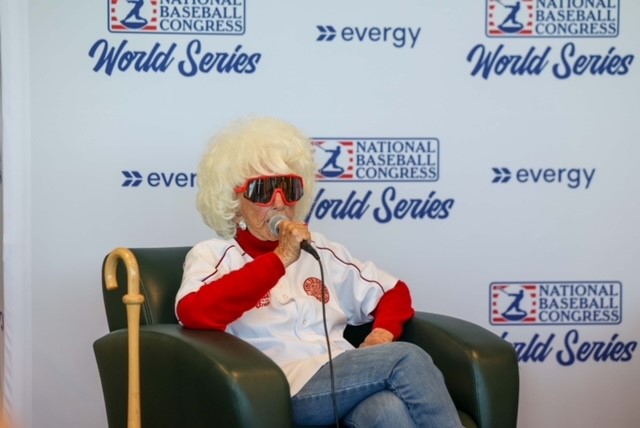 All The Way Mae in Wichita
In the 1940s, baseball took on a very different role in America. Companies often had their own company teams that played across the country, with many of them making their way to Wichita to play in the National Baseball Congress. As the United States joined World War II, a new professional baseball league with female players was formed to keep baseball in front of fans while so many men were away. Known as the All-American Girls Professional Baseball League and made famous by the 1992 film 'A League of Their Own', the Midwest-based league existed until 1954 with more than 600 women playing in the league.
In the mix was Maybelle Blair, who played for the Peoria Redwings in 1948. Growing up with her brother Tommy, who was seven years older, in California, Maybelle couldn't remember a time when she didn't play baseball.
"At first I didn't get to go play baseball with all the other kids," Maybelle recalls, "I was the little sister so my job was to sit and listen to the professional games on the radio and keep score, so they could come back in and find out what had happened in the game. But once that was over, I would go out and shag balls, and play catch… I just worshipped Tommy."
Tommy played for Northrop Aircraft's company team in the 1940s, and Maybelle rarely missed a game. In 1941 the Northrop Bombers of Hawthorne headed to Wichita for the National Baseball Congress national championships, ending up tied for fourth, and then knotted with Camp Wheeler (GA) Spokes for fifth in the 1942 nationwide ratings. Their third baseman – Tommy Blair.
We all know that there's no crying in baseball thanks to the 1992 film 'A League of Their Own,' and this summer one of the inspirations behind the film will celebrate women's history in baseball at Wichita's prolific NBC World Series. The film depicts the emergence of the All-American Girls Professional Baseball League (AAGPBL) in the 1940's, when Major League Baseball teams feared the collapse of the league due to many young men being drafted into the war. Madonna's character nicknamed 'All the Way Mae' is partially based on the legendary Maybelle Blair, a former pitcher for the 1948 Peoria Redwings. Blair, now 96 years old, still travels the country inspiring the next generation of girls and women in baseball.
Blair is an integral part of USA Baseball and MLB's Trailblazer Series – a baseball tournament for girls – she is tied in with the USA Women's National Baseball Team, and she makes appearances at girls' baseball events across the country, and on August 10th Blair made a stop at Eck Stadium on Wichita State University's campus for the NBC World Series.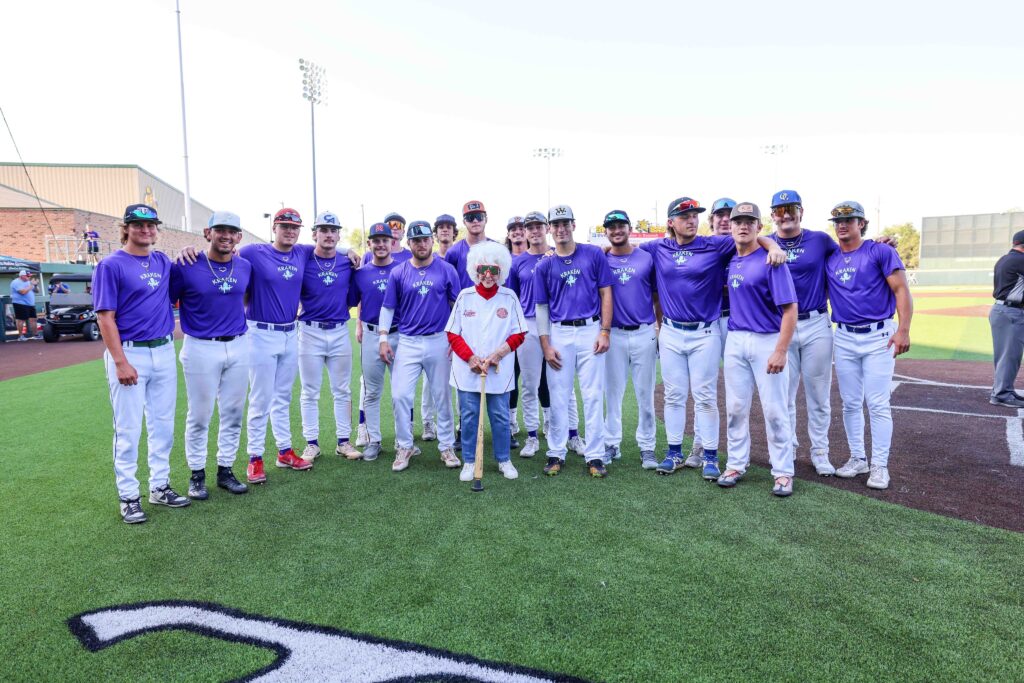 Promoting women in baseball isn't Blair's only connection to the NBC World Series; in 1942 Blair's brother, Tommy, played third base for the Northrop Bombers at the longstanding tournament. Growing up, Blair often followed her brother to baseball practice and sometimes played outfield with his team in California, and still remembers him going to play in Wichita.
Aside from her contributions to the game of baseball, Blair is also a trailblazer for women in aviation. Following her professional baseball career and a successful professional softball career, Blair began what would become a 37-year career at Northrop Corporation in California, where she became one of only three female managers early in her career, and the first in transportation. Joining her during the celebration on August 10th at the NBC World Series is one of Wichita's own Rosie the Riveters, Connie Palacioz, 98, who worked on B-29s at Boeing during World War II.
The journey of women in baseball started more than 150 years ago, but growth has quickened over the last decade, with major accomplishments including the first female general manager in the MLB (Kim Ng, Miami Marlins), the first female MLB minor league coach (Rachel Balkovec, New York Yankees), the first woman to appear in the starting lineup of an Atlantic League game (Kelsie Whitmore, Staten Island Ferry Hawks), the first woman to make an NCAA Division I baseball roster (Olivia Pichardo, Brown University), and many more accomplishments.
Now, at 96, Maybelle's goal is to raise funds for an International Women's Baseball Center in Rockford, Illinois, home of the Rockford Peaches made famous by "A League of Their Own", that would house a museum, an umpire school, a Hall of Fame and more – all to continue to promote the game of baseball for the next generation of girls. To learn more about her vision, and learn how you can get involved, visit http://www.internationalwomensbaseballcenter.org/.