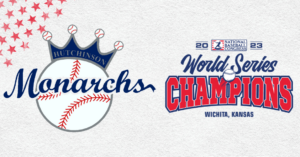 Pool play tweak
The 89th National Baseball Congress World Series (NBCWS) continued the pool play format with one tweak: the
top three teams qualified for the knockout rounds, which was done in the 2019 tournament.
Improved offense
Offensive stats in the 89th NBCWS showed a modest improvement, as the tournament batting average was .265,
up 10 points from last year. Runs per game gained a run from last year (11.74 compared to 10.67), and hits per game
increased slightly (16.63 compared to 16.10). RBIs averaged 10.46, only the third time that it reached double digits. While
extra-base hit averages continued to fall (the 0.63 home runs per game was the lowest since the nadir of 0.28 in 2019),
additional baserunners were gained by a tournament-high 9.69 walks per game (edging out the previous high of 9.65 in 2018).
Winning teams topped 10 runs 15 times compared to twice for defeated teams. Losing teams scored two or fewer
runs 17 times, including seven shutouts.
Three teams, led by champion Hutchinson (Kan.), batted over .300. OKC D-BAT was second at .323, but failed to
advance out of pool play.
Only one team failed to reach .200, the SC (Kan.) Blues. The Blues became the third team to fail to score a run in
pool play, and set records for lowest batting and slugging average at .054.
Grant Nottlemann (Great Bend) set a Modern Wood Era (MWE) record by going 12-for-16 for a .750 average,
eclipsing the .714 of the San Diego (Calif.) Waves' Bryan Rosario in 2018 over four games. Nottlemann also set a MWE
record with an .850 on base percentage, surpassing Rosario's .765.
Tournament MVP Max Buettenback (Hutchinson) batted .524 with seven extra-base hits, 10 runs scored, 10 RBIs
and a 1.063 slugging percentage. Three players (Josh Livingston, Five Tool Kraken; Sam Wiese, Monarchs; and Miguel
Santos, Santa Barbara) shared the home run lead with two, while Buettenback and teammate Jaden Gustafson each had
10 RBIs.
At least three Hutchinson players were found among the top five in seven of the eight tabulated offensive
categories; Buettenback was among the top five in six of them.
Of the 22 home runs that were hit (down from 27), Hutchinson, Santa Barbara and the Five Tool Kraken each had five.
Stolen bases were up by nearly 1.00 (3.40 in 2023 against 2.47 in 2022), with Lonestar (Texas) stealing 22 bags
and Santa Barbara 19.
Winning teams batted .320, hit 17 home runs, and stole 82 bases, while defeated teams had .205, 5 and 37
respectively. The average margin of victory fell just shy of 6.00 at 5.91 (8.80 to 2.89)
Call to arms went into voicemail?
Pitching in the 89th NBCWS seemed to be either very good or very bad. The tournament ERA was 5.48, up from
last year's 4.81.
ERA champion Kansas Cannons was the lone team under 2.00 with a 1.85 ERA. Santa Barbara had a chance to
overtake the Cannons, but allowed four earned runs in the title game to finish third with a 2.12 mark (Champion
Hutchinson was fourth with a 2.39 ERA)
At the other extreme, newcomers Arlington (Texas) Baptist University and Seattle (Wash.) finished with the
highest ERAs at 11.87 and 15.92 respectively. The Five Tool Kraken would have joined that group, but had enough low
earned run games allowed to finish at 9.53. Sandlot Tulsa (Okla.) also had a 9.00 ERA.
Strikeouts were down at 14.51/game from last year's 15.77, and walks set a record with 9.69/game, up from
2022's 8.07. Hit batters were up a little at 2.23 compared to 2.07 last year.
Santa Barbara's Zane Petty took home leading pitcher honors, winning two games, allowing no runs in 13 innings
with two walks and 15 strikeouts. The Monarchs' Brady Pacha was almost as dominant, allowing one run in 11 innings,
winning two games, walking one and striking out 16. Six starters had an 0.00 ERA (with a minimum of 5 innings pitched),
and two others had an ERA under 1.00.
Lonestar's EJ Garcia pitched 7.1 innings of shutout baseball in relief, while Hutch's Reed Scott had a win and two
saves in 3.2 innings. Robert Cranz of the Foresters struck out 14 over seven innings.
Winning teams had a 2.40 ERA, walked 3.57 batters and struck out 8.20 per game. Defeated teams had an 8.78
ERA and nearly walked as many batters per game (6.11) as they struck out (6.31)
No-hitter notes
1955 and 1964 were the year of three no-hitters.
2021 was the last time two no-hitters were thrown. Other years were 1939, 1950, 1954, 1958, 1961, 1962, 1964,
and 2001.
Denver Cougars have been at both ends of no-hitters, defeating the SC Blues in a five-inning perfect game and
losing to Santa Barbara in a nine-inning no-no..
The Foresters (2020 and 2023) joins Greensboro, N.C. (1962 and 1964), Sinton, Texas (1950 and 1951) as clubs
that have thrown two no-hitters.
Grand Rapids Slagboom is the only team to be no-hit twice.
Fielding took a step back
The tournament field had a .955 average, down six points from 2022's 9.61. Errors topped three per game at
3.06, and double plays were up to 1.43/game.
Hays had the best fielding at .985. Santa Barbara had an opportunity to better that, but committed two error in the
championship game to finish at .979, along with the Seattle Studs.
No team finished with sub-.900 fielding despite three teams (Great Bend, Kraken and Lonestar) committing over
10 errors.
The tournament opened with an errorless game (Arlington Baptist-D-BAT), but never saw another one thereafter.
Hutchinson-GPS had the most combined errors with seven; the Monarchs prevailed despite committing five of them. Two
other teams (Great Bend, SC Blues) were also charged with five miscues.
Winning teams fielded .970, committed 1.03 errors per game, turned .74 DPs and caught seven of 34 base
stealers. Defeated teams had averages of .941, 2.03, .69 and caught 17 of 85 steal attempts and picked off seven
runners.
Game times were slightly longer
With all games played at Eck Stadium, game times averaged 2:22, just higher than last year's 2:20. Six games
were completed in under two hours, with Denver's perfect game over the SC Blues (#9, Aug. 5) the quickest at 1:12. That
marked the first time since 2016 that a game finished under 75 minutes.
                                            Four games lasted over three hours, with Hutchinson-Hays (#7, Aug. 4) the longest at 3:17. Two of the four three-hour games                                                           occurred on Aug. 8 and a third fell just shy at 2:52.  Fourteen games lasted between 2:15-2:29.
Rain delayed the start of the semifinals 1:24 on Aug. 11.
The margin of victory was (not quite as big)
The average margin of victory almost reached 6.00 again, but finished just shy at 5.91. There were some close
games (10 decided by one or two runs), but nine were had at least 10-run margin. Seven games were settled by the 10-
run lead rule, and three others by the 8-run rule.
Winning teams topped 10 runs 15 times, while defeated teams did so twice. Two of the highest-scoring games
both occurred on Aug. 8: Great Bend 17, Kraken 11 (28 runs, #23) and Hutchinson 12, GPS 10 (22 runs, #21). Lonestar
posted a tournament-high 19 runs against Arlington Baptist (#25, Aug. 9).
Winning teams averaged 8.80 runs/game against 2.89 for defeated teams.
Miscellany
Winning teams had a five-game stretch of scoring at least 10 runs (games 21-25, Aug. 8-first game of Aug. 9).
Two of the four debutants (Seattle Blackfins and Arlington Baptist) reached the knockout rounds, but their last two
game did not end well: The Blackfins fell to Hays 16-3 and 17-6 to Great Bend, while the Patriots lost 13-3 to Liberal and
19-3 to Lonestar. The other two (SC Blues and Sandlot Tulsa) wen 0-3 in pool play.
Double-digit innings are generally rare, but there was a rash of them: Great Bend scored 11 in the ninth inning to
turn an 8-6 deficit into a 17-8 win (#23, Aug. 8); Hays scored 11 in the fourth to run-rule the Blackfins 16-3 (#24); Lonestar
topped that with a 12-run ninth in a 19-3 win over Arlington Baptist (#25, Aug. 9). Hutchinson scored 10 in the third to run rule the Kraken 17-0 in a five-inning semifinal on Aug. 11 (#33).
The Kraken had a rather mercurial tournament: In their six games, they allowed nine or more runs in four of them
(including 17 to Great Bend and Hutchinson). But they yielded less than three runs in two of their wins.
Lonestar Baseball Club had an interesting tournament. They scored nine runs in pool play, allowing three to reach
the knockout rounds. Then, in the first round of elimination play, they scored more runs in the ninth (12) than they did in
pool play in a 19-3 win over Arlington Baptist. Lastly, the team allowed as many runs (six) in the eighth inning as they did
in their first four games in an 11-1 loss to Hutchinson. As part of the implosion (or to cap it off), two players and a coach
were ejected.
Speaking about ejections, Santa Barbara saw Robert Cranz and head coach Bill Pintard were ejected in the
eighth against Great Bend. The Foresters came back to win 5-4 in 10 innings.
Doppleganger: Conner Woods, Santa Barbara and Kansas Cannons (yes, they are different)
Been around a while: Great Bend is the first team this writer has seen that has the year established (1871) on the backs
of their jerseys.
Knockout round finals
The first time knockout rounds were used was in 2016. In that tournament, Hays and Santa Barbara reached the
championship round undefeated. Hutchinson-Santa Barbara was the second time that two undefeated teams reached the
finals.
Both Santa Barbara and the NJCAA National Team had one loss in the 2018 championship game.
The Seattle Studs are the only two-loss champion, defeating an undefeated Cheney (Kan.) Diamond Dawgs in
the 2019 title game.
Knockout round play was not used in 2020 (Covid) and 2021 (the only time the NBCWS played games at
Riverfront Stadium)
MULTI-STATE LEAGUE REPORT
Kansas fielded the most teams with six, with the Jayhawk Collegiate (neé Sunflower) accounting for three of
them. Texas had four teams, Washington two, Oklahoma two, leaving as singletons California and Colorado. Seattle sent
two teams, and the Rocky Mountain Baseball League also had three clubs.

League play
The 89th NBCWS saw three teams each from the (new) Jayhawk and Rocky Mountain baseball leagues. Led by
tournament champion Hutchinson, Jayhawk 2.0 decisively won the contest of the leagues with an 11-4 record, placing all
three entrants in the quarterfinals (Hutchinson, 6-0; Great Bend, 3-2, fifth; and the Cannons, 2-2, eighth). The Denver
Cougars led the way for the RMBL with a fifth-place finish at 3-2, while former Jayhawk members Hays and Liberal
finished tied for ninth for a 7-6 cumulative mark.
In head-to-head meetings, the Jayhawk held a 2-0 edge:
Aug 3 Kansas Cannons 8 Denver CO Cougars 1
Aug 4 Hutchinson KS Monarchs 6 Hays KS Larks 4
Intraurban play
The 16-team format usually doesn't allow for two teams from the same city to compete in the tournament, but the
Pacific International League did that as the Seattle Blackfins qualified as league champions and the Seattle Studs gained
an at-large berth. (Would there be a Circle of Love without the Studs??) The two clubs would have met in the
quarterfinals, but it was not to be, as Great Bend eliminated the Blackfins in the first round of knockout play 17-6.
San Diego (Calif.) has had the most recent of the intraurban contests when the Stars edged the Force 2-1 on
8/5/2013. San Diego has sent four teams to the tournament during the Modern Wood Era, three in 2009: Force, Stars and
Waves. Despite all of those appearances, the 2013 tournament was the only time two San Diego clubs met.
Host city Wichita has had the following: Braves 14, NABA Stars 1, 8/4/2000; Braves 5, Gators 2, 8/2/2005; Titans
7, Gators 4, 8/5/2005; Gators 7, Titans 1, 8/4/2006; Sluggers 7, Titans 4, 8/2/2003.
Two teams from the same city have never met in the championship game, and the last time two teams from the
same state met in the finals was in 2002, when Fairbanks (Alaska) defeated Anchorage 8-3. Other all-Alaska finals were
Anchorage 9, Kenai 4, 1991; Kenai 6, Fairbanks 5, 1977; Fairbanks 3, Anchorage 0, 1976; Fairbanks 3, Anchorage 2,
1972; Anchorage 2, Fairbanks 1, 1971. The Goldpanners-Glacier Pilots are the most frequent matchup with four; the
Pilots won the first one, but the 'Panners took the next three.
All-Kansas finals occurred in 2000 (Liberal 3, Hays 2) and 1965 (Wichita Dreamliners 11, Liberal 6).
Evolution of the Modern Wood Era
The Modern Wood Era (defined as the return of wood bats to the NBCWS and the prohibition of metal bats) has
seen three distinct stages: The "Wild West" era, 2000-2008 with 40+ teams; the "More Normal" era, 2009-2019 with
between 26-36 teams; and the current 16-team era, 2020-2023 (which includes the 2020 Covid year of 13 teams).
Per-game averages are really the only way to compare seasons, but it was interesting to note that the at bats per
game was a MWE low at 62.80. 2020 and 2021 are the only years that saw an average of more than one home run per
game, and twice there were fewer than eight runs scored per game (7.43 in 2012 and 7.69 the year following).
2016 was the last year there were double digits in complete games with 10; since then, the most complete games
in the tournament was five, done in 2019 and 2021 (2020 saw the fewest with two).
There has been at least one extra-inning game in the NBCWS (done four times; the most recent was 2021). The
2012 tournament was the last one to have at least 10 of them, and holds the highest percentage at 15.87%.
The 2021 tournament saw winning teams average over 10 runs a game at 10.03; the last time that happened the final year of metal bats in 1999 at 10.59. This year's tournament fell just shy of nine runs at 8.91, which is the second highest average in the MWE. Last year's tournament saw defeated teams average a low of 2.10 runs/game; the most
losing teams averaged was 3.54 in 2018. The past three years saw the widest average margin of victory, with the 2023
tournament the third highest at 5.914/game (the 2016 edition averaged 5.912). Only once did the average margin fall
below 3.00 as the 2012 competition saw an average margin of 2.92. 2013 had an average of 3.53 and the 2001
tournament average was 3.63.
Five-year players
Players who appeared in more than four tournaments are a rarity, but three players reached the five-year mark in
2022 and another in 2023. Two of them (Anthony Brady and Landon Riker) are Seattle Cheney Studs players. Wyatt Divis
appeared in six tournaments, five with Hays. Austin Eggleston played in five tournament with five different teams.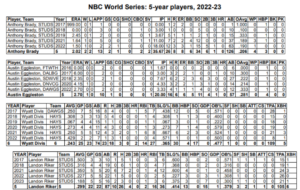 And thank you again to:
Rachelle Miller and Rick Potlock, managing the Pointstreak software; and doing the associate scoring.
Rick did the work on Pointstreak from his home in Tallahassee, Fla. Overall, it went well.
And, the writer also thanks Kevin Jenks, Katie Woods and Andrew Burgos for helping this writer complete his 40th
tournament.
Mike Dean
Official scorer and lead statistician
National Baseball Congress