NBC World Series
For 89 years, the National Baseball Congress World Series has provided a piece of baseball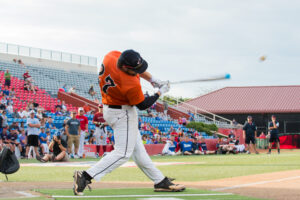 Americana in Kansas, with community-based teams from all corners of the United States competing for a National Championship. Currently, the NBC World Series is one of the oldest continuous sporting events in the United States.
Since its start in 1935 by Raymond "Hap" Dumont in Wichita, KS – the NBC World Series has produced more than 800 Major League Baseball players. From Satchel Paige to Tony Gwynn, Mark McGwire, Joe Carter, Roger Clemens, Ozzie Smith, Albert Pujols, Tim Lincecum, and Heath Bell – the NBC World Series showcases the best amateur talent in America and around the world.
Each year, nearly every MLB team sends scouts to the tournament looking for the next diamond in the rough. With teams competing in a ten day tournament, the days are long and the sheer volume of players is staggering. The NBC World Series is a tournament with no equal.
Bring the whole family out for the 89th NBC World Series, powered by Evergy, August 3-12 in Wichita, Kansas. Click here to register for updates & be the first to know about tickets, promotions and more.