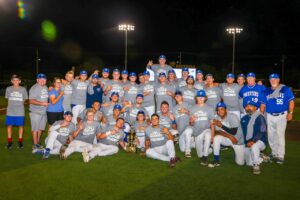 WICHITA, Kan. – The Santa Barbara (California) Foresters won their 10th National Baseball Congress World Series title Saturday with a 12-1 win over the Hays (Kansas) Larks in the 88th NBC World Series at Eck Stadium.
The Foresters (6-0), who led the tournament in both hitting and fielding, became the third team to win three consecutive titles, joining Fort Wayne (Indiana), which won four straight from 1947-50 and Fairbanks (Alaska), winners from 1972-74 as part of a seven-year run of NBCWS Championship game appearances from 1971 to 1977. Santa Barbara also extended its string of wins to 15, tying Boulder (Colorado) for consecutive wins.
The Foresters took control early with six runs in the first two innings and never looked back. Five more runs in the sixth put the game out of reach. Gavin Kash was one of four players with two hits and drove in three runs to pace Santa Barbara's 14-hit attack against five Hays pitchers. Miguel Santos and Nate Rombach each scored twice and had two RBIs, and Nick McLain was the other with two hits. Parker Smith won his second game of the tournament, scattering four hits and striking out five over six innings. Three relievers worked an inning each to complete the 7-hitter.
Hunter Rosson homered in the fifth for Hays (4-2). He and Palmer Hutchison finished the tournament with two home runs, joining the Foresters' Rombach for the home run lead. Hunter Marshall (1-1) was knocked out in the second inning and was charged with six runs. Hays collected its sixth runner-up finish, tying Fairbanks for second, one behind seven for Liberal (Kansas). Santa Barbara led the tournament with a .376 average and a 1.29 ERA. The Larks entered the game with a 1.02 ERA, but exited it with a 2.94 mark.
The was the second time that Hays and Santa Barbara met in the championship game; the Foresters won the 2016 title 6-2. The 88th NBC World Series is powered by Evergy.