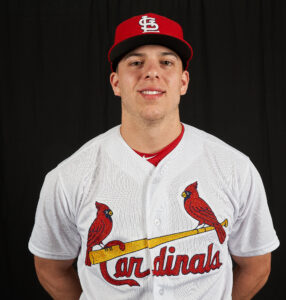 The National Baseball Congress announced today that St. Louis Cardinals relief pitcher Ryan Helsley is the 2023 NBC Graduate of the Year.  Helsley played in 2014 as a member of the Santa Barbara Foresters of the California Collegiate League.  During the 2014 NBC World Series, Helsley made an appearance in the championship game, striking out two batters to help the Foresters win the championship.
"The summer I played for the Santa Barbara Foresters was some of the most fun I've had playing baseball," said Helsley, "Being able to meet guys that were from all over the country and coming together as one team was a great experience and something that I think helped me in my baseball career."
The Graduate of the Year Award has been presented to an NBC Alumni member every year since 1975, based on their MLB performance in the previous season.  Past winners of the award include Aaron Judge, Alex Gordon, and Tim Anderson.
In 2015, Ryan Helsley was drafted in the 5th round of the MLB Draft by the St. Louis Cardinals.  After a few years in the minor leagues, Helsley made his debut in 2019, and instantly performed well, posting a 2.95 ERA for the Cardinals that season.  In 2022, Helsley had one of the best ERAs in the league at 1.25.  Additionally, he accounted for 19 saves and punched out 94 batters.  Helsley's performance during the season led to being named an All-Star and was ranked as one of MLB Now's Top 10 Relief Pitchers leading up to the 2023 season.
The 89th NBC World Series, powered by Evergy, runs August 3rd-12th.  All games will be played at Wichita State's Eck Stadium, home of Tyler Field.  Tickets are available at nbcbaseball.com or by calling 316-265-6236.