2023 Terry Brewster Award Nominations Open with NBC World Series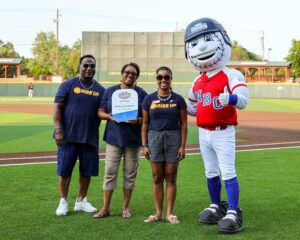 Community Volunteer All-Star Recognizes Volunteers in Greater Wichita Area
As part of National Volunteer Week, nominations for the Terry Brewster Community Volunteer All-Star Award are now open. The Terry Brewster Award, presented by the National Baseball Congress in conjunction with Spirit AeroSystems, is given annually in honor of longtime NBC supporter and former board member Terry Brewster.
Nominations for the 2023 Terry Brewster Award can be submitted at nbcbaseball.com until June 2 at 5:00pm CST. Fill out a nomination form here
Volunteers from any local non-profit can be nominated by members of the community for their commitment to improving the places in which they live, work, and play, and then the winners are selected by a committee of local professionals and community members. More than 50 nominations were submitted in 2022 for local volunteers.
The 2023 honorees will receive four tickets to an NBCWS game where they will be recognized during the feature game, and have their story shared. The community is invited to attend the games and help celebrate these dedicated residents who volunteer their time, talent and resources for the benefit of others.
The 89th NBC World Series, powered by Evergy, will be August 3-12th, 2023 at Eck Stadium, located at Wichita State University. The largest summer collegiate national championship in the country, the NBC World Series is one of the longest running sporting events in the country. More than 800 NBC alumni have gone on to play in Major League Baseball. Tickets to the 2023 NBCWS will go on sale in June.